Sturdy and durable, chain link fencing has been a staple in the fencing market for years. Affordable and broadly suited for diverse landscapes, it's a smart solution for homeowners and business owners alike. DFW Fence Pro has a variety of chain link fence solutions to meet your needs.
The 411 on Chain Link Fencing
Functionally, chain link fencing effectively restricts access onto and off of property. It's applications are far-reaching and include:
fencing in residential yards
securing swimming pools and ponds
fencing school and city playgrounds
confining and/or defining commercial spaces
protecting machinery and inventory
containing pets and small livestock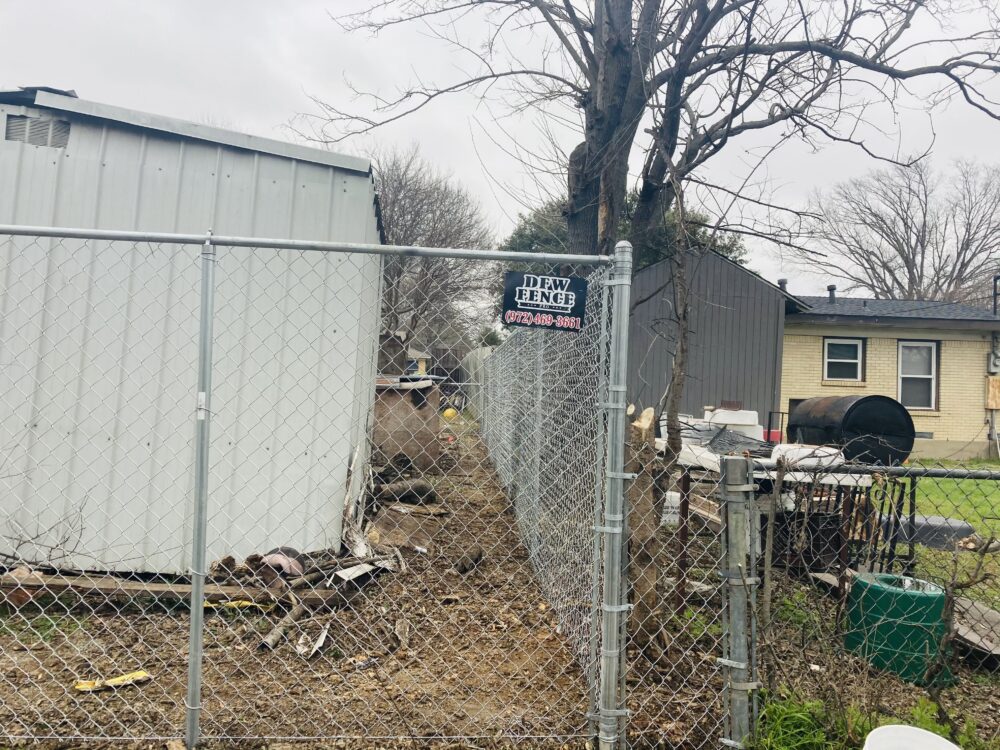 Constructed on site, chain link fencing can be designed to accommodate any space layout. With chain link fencing, one can create any shape desired. Composed of steel posts strung with steel mesh secured by a top rail sleeve, chain link fencing serves as a strong and durable barrier. Tension wire on the anchored posts holds the diamond-mesh structure taunt. Typically posts are distributed every 8 to 10 feet to maintain stability, but they can be positioned closer together to create smaller enclosures. To ensure overall strength, corner posts are typically driven two feet below the ground surface; remaining posts require less depth. Chain link fence height options run from 3 to 12 feet, ensuring the perfect solution for every need.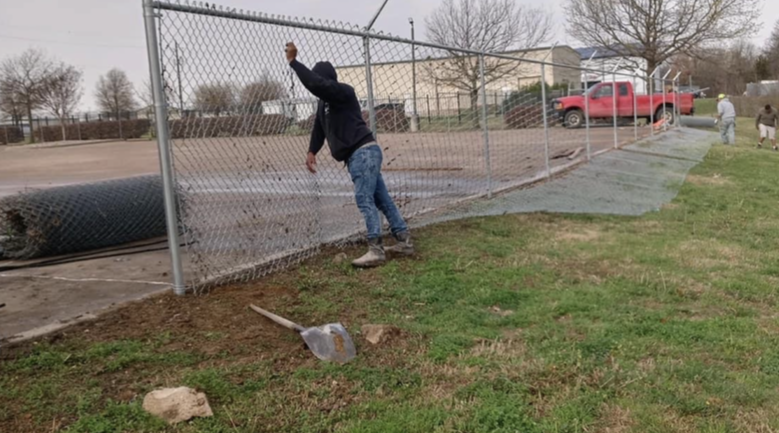 Benefits of Chain Link Fencing
There are numerous reasons homeowners and business owners opt for chain link fencing. These include:
Longevity. With an expected lifespan of 25 years or more, chain link fencing is a smart investment.
Durability. Chain link stands up to wind and weather. Unlike wood panel fencing, chain link panels won't catch strong wind and blow over. It doesn't sustain damage in hail or dust storms. It doesn't require refinishing or routine sealing.
Low maintenance. Typically the only thing chain link fencing needs is a good washing every now and then. If a rust spot does appear, it can be wire brushed, then sealed over.
Affordability. Typically chain link fencing is the most economical barrier option available.
Visability. Chain link fencing allows for viewing beyond the fence line as well as viewing into the contained area. It can appear almost invisible when viewed from a distance. And it enables one to see into an enclosed space, which can be an important security benefit.
Chain Link Options & Variations
Modern chain link fencing isn't one-size-fits-all. Today's solutions go beyond meeting the basic needs. As mentioned, chain link fencing comes in a wide variety of heights. It can be constructed to form any shape and can be built to effectively run any length desired. Additionally, there are several material composition and feature options available to align with specific needs. Consider the following:
Strength
Chain link comes in a range of strengths, driven primarily by the gauge of the wire used in the diamond-shaped meshing. Common gauge offerings range from 6 (the strongest, often used in commercial settings) to 11. 5 (common in residential areas). Note that the lower the gauge number, the stronger the wire. Higher gauge offerings will be lighter and less visible; generally they are also less expensive. At DFW Fence Pro, we work with only top-quality chain link fencing materials. No matter the gauge, you can be confident in the quality.
Finish Options
Traditional chain link fencing is galvanized to protect the steel poles and mesh from corrosion. PVC-coated chain link, commonly referred to as cyclone fencing, is an option available to further protect chain link fencing. It is typically recommended for coastal areas or in locations prone to flooding. Powder coating is yet another finish option available to property owners seeking enhanced durability. Beyond the enhanced durability, powder coated chain link fencing has grown in popularity given its specific look, which features a black matte finish. When this black powder coated mesh fencing is framed with stained wood, it creates an especially handsome look.
Mix and Match
For variation in appearance, traditional chain link fence posts can be replaced with wood posts. Chain link fencing panels can be framed with wood to create a completely different aesthetic. Additionally, wooden panels can be installed in an X design on mesh panels to enhance the look.
Optional Privacy
If privacy is desired, privacy slats can be woven between the steel mesh. Available in plastic and wood varieties, privacy slats come in a range of colors to accommodate various aesthetics.
Gates
For access to and from the enclosed area, we offer numerous chain link gate design options, including decorative hardware and gate top detail. For further customization, DFW Fence Pro can design a one-of-a-kind wooden gate to enhance a chain link fence.
Contact DFW Fence Pro Today to Learn More
A full-service fencing company, DFW Fence Pro provides installation and repair services for both residential and commercial landowners. Understanding fencing is an investment, we offer flexible financing options for qualified customers. Beyond chain link fencing, we specialize in wood fence installation, wrought iron, pipe fences and more. To round out our offering, we build and install custom gates. Family owned and operated, we've been a trusted fencing solution in the DFW market for over 25 years. Contact us today to discuss fencing solutions for your home or business.