Constructed of steel, pipe fencing is one of the most reliable and durable fencing options available today. Add in the benefit of low-maintenance and it is no wonder steel pipe fencing is a popular choice for land and livestock owners. But you don't have to be a rancher or farmer to take advantage of this enviable fencing solution. It can be an attractive and stately exterior landscape element for any home or business. DFW Fence Pro is proud to offer this smart solution in our fencing product portfolio.
Pipe fencing consists of hollow steel pipes running horizontally (railings) and vertically (posts). Gates, composed of the same materials, are added to grant/restrict access. Depending on functional needs and aesthetic goals, some seek horizontal railing that begins a few inches above the ground, others only desire railing that begins a foot or more above ground level. Constructed onsite, horizontal rail spacing for pipe fencing can be designed and built to suit the specific needs of the customer.
PIPE FENCING 101
Highly durable, a steel pipe fence should last several decades. Though it is not required, pipe fencing is generally painted to further extend the life of the materials or to achieve a specific look. DFW Fence Pro offers pipe fencing painting with installation.
Benefits of Steel Pipe Fencing
Components of overall durability are apparent in the impressive list of benefits one can expect choosing pipe fencing, which includes:
Exceptional strength, especially when compared to wood and chain link
Fireproof
Stands up to hail, wind, snow and rain
Paintable, so color options abound
Eco Friendly – does not contribute to deforestation and resultant land erosion or similar ecosystem disturbances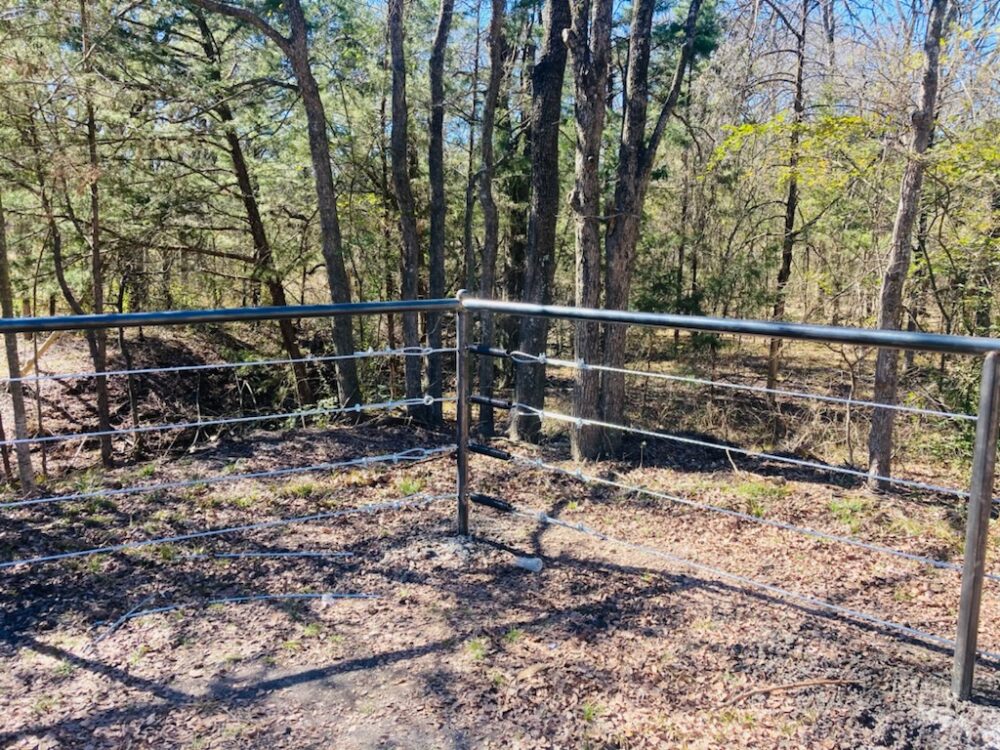 Broad Uses for Pipe Fencing
Though pipe fencing has been used for years by ranchers and farmers, its popularity has expanded far beyond traditional rural and agricultural applications. Today, it's chosen to
contain livestock (pens and corrals)
enclose pastures
establish commercial and residential land demarcation
satisfy residential homeowners seeking something beyond the common wood panel and wrought iron fencing varieties
bolster the strength of chain link fencing (posts)
enhance the look and/or function of gating for non-pipe fencing (mix and match)
If you're weighing options for fencing, steel pipe should be included in your list of considerations. Durable and attractive, it's a smart solution for residential and commercial landowners.
Contact Us Today For A Pipe Fence Estimate
A full-service fencing company, DFW Fence Pro provides installation and repair services for both residential and commercial property owners. Understanding fencing is an investment, we offer flexible financing options for qualified customers. Beyond pipe fencing, we specialize in wood fences, wrought iron, chain link and more. To round out our offering, we build and install custom gates. Family owned and operated, we've been a trusted fencing solution in the DFW market for over 25 years. Contact us today to discuss fencing solutions for your home or business.