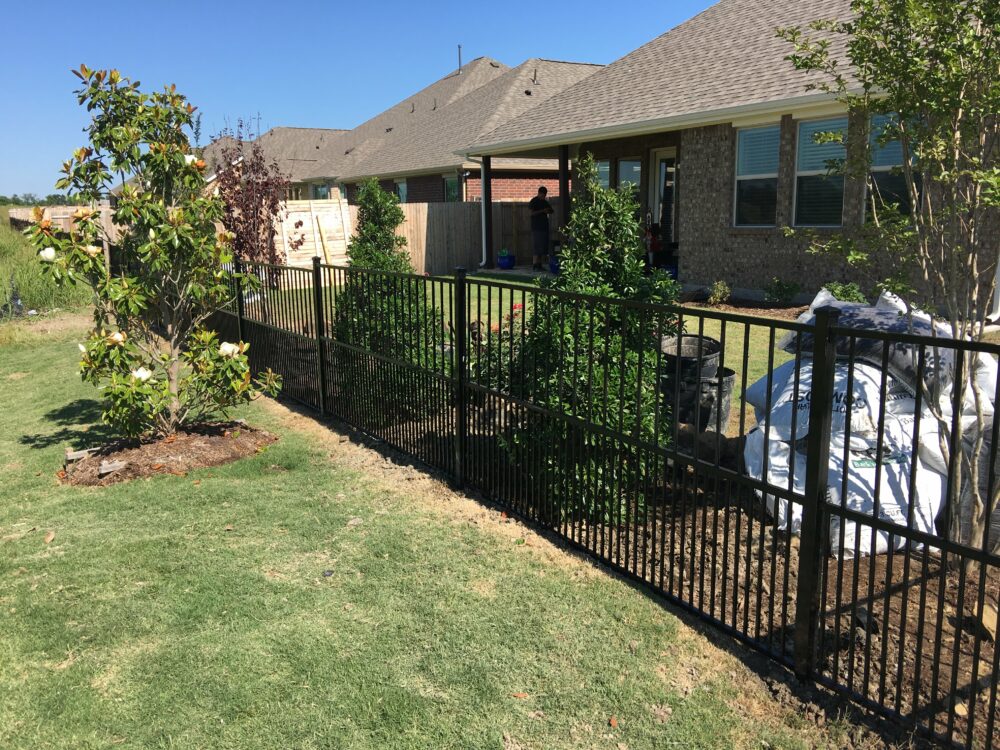 Beautiful and Durable Wrought Iron Fences
DFW Fence Pro designs and installs quality wrought iron fencing for residential and commercial use. Solid and stately, it's a smart and attractive fencing solution. Serving not only as an effective barrier, it will upgrade the look of a home or business. With an expected lifespan reaching beyond several decades, this fencing is also a smart investment.
What is Wrought Iron?
"Wrought" is the past participle of "work" and the word aptly describes the action undertaken to form wrought iron fencing. The primary metal used in wrought iron is, indeed, iron, but a percentage of slag is also present. Slag is the grainy byproduct of iron ore smelting. When slag is added to iron the resulting material becomes effectively malleable. This means it can be shaped and formed in various ways without losing strength. The addition of slag in iron also helps to protect the material from corrosion. Untreated wrought iron would, in fact, rust over time; but, wrought iron fencing is sealed with protective paint. When quality paint is used, wrought iron fencing should be fully protected from corrosion for 8 to 10 years before requiring repainting.
Benefits of Wrought Iron Fencing
Home and business owners choose wrought iron fencing for its many desirable attributes. These include:
Strength – Composed of iron and slag, wrought iron is one of the strongest fencing materials available. The durable metal is forged into pickets, rails and posts. It is manufactured in panels, with the pickets and rails welded solidly together. Hardware is used onsite at fence installation to affix the panels to securely seated posts. It's both the material and the construction that make wrought iron an effective and reliable fence barrier.
Durability – Wrought iron will not rot like wood eventually does. Sealed with paint, it will not corrode for years. Given its chemical composition, it won't stain when exposed to things like oil, food, beverages, leaves, pollen, mud and other organic materials. Given its physical properties, it can't be chewed or easily cut or sawed or otherwise compromised. Given it's open construction, wind passes through the fence instead of blowing it down.
Low Maintenance – With a generous decade-interval repainting requirement, wrought iron is exceptionally low maintenance. With solid hardware and welded seams, the opportunity for wear and tear is vastly reduced. Rain typically does the cleaning effectively, but if dust and mud do accumulate, a good washing will restore the fence to its original grand appearance.
Visibility – With its slim pickets, wrought iron fencing promotes open sight lines. This is a highly desirable aesthetic benefit in many situations. Capturing landscape beyond the fence line, an enclosed space will feel larger. Additionally, having the ability to capitalize on views beyond one's property line often boosts the inherent value of a property. Finally, with an open view, a property owner can showcase the landscape and features within their enclosed space to those beyond the fence line.
Security – Having the ability to see inside a restricted space often translates into a significant security advantage. Wrought iron fencing can deter criminal activity. It also allows those with responsibility for people, pets or valuables contained within the fence to visually monitor what's going on inside the fence while remaining outside the fenced-in area. What's more, it is hard to climb a wrought iron fence. So whether the goal is to keep a potential climber in or out, the property owner can count on the desired ascent to be a significant challenge.
Modern Wrought Iron Fencing Applications
Wrought iron fencing has many commercial and residential applications. Today, it's commonly used to:
enclose residential backyards.
fully frame residential estates.
enclose commercial multi-family establishments.
secure pools.
secure family pets. (And with puppy bar options, it effectively secures toy pet breeds as well.)
enhance commercial spaces, including framing outdoor dining areas, courtyards and patios.
designate the boundaries of a commercial space.
protect machinery and inventory.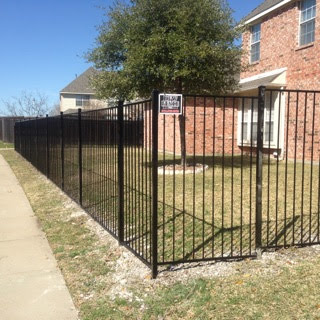 The emergence of smartly-engineered rackable wrought iron fencing has further expanded the popularity of the product. Featuring adjustable-hinge hardware, the rackable wrought iron fencing solution enables landowners with uneven terrain to achieve an attractive and secure terrain-hugging fence line For those with slight or one-off terrain variation, simple panel add-ons, composed of identical fencing product, can be added to the bottom of individual panels, only where needed, to close a gap.
Your Wrought Iron Fencing Solution
DFW Fence Pro offers a wide selection of wrought iron fencing designs to choose from. You're sure to find the perfect look, height and picket spacing to match your home or business. If mix-and-match is your desire, we can custom-design a fencing solution that incorporates wrought iron and other materials. A full-service fence company, beyond wrought iron, we specialize in wood fences, pipe fencing, chain link and more. To round out our offering, we build and install custom gates. Furthermore, understanding fencing is an investment, we offer flexible financing options for qualified customers.
We invite you to check out our portfolio to get an idea of the work we do. Family owned and operated, we've been a trusted fencing solution in the DFW market for over 25 years. Ready to get started on your fence? Contact us today.